Bowron Lake Area
Bowron Lake Provincial Park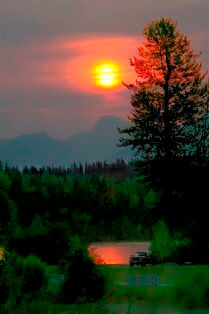 Bowron Lake Provincial Park, 32 km east of Wells, provides one of the world's best canoeing opportunities and some of British Columbia's finest wildlife viewing. Here, you can see bald eagles, osprey, moose, mink, beaver, bears, and a wide variety of birdlife from your canoe.
The full "Bowron Chain of Lakes" circuit is 116 kilometers of lakes, rivers, and short portages. Typically the full chain takes about a week; shorter trips of the "west side" or of just Bowron Lake are options for those on tighter schedules. Reservations with BC Parks are necessary for most overnight canoe trips, although limited drop-ins are available.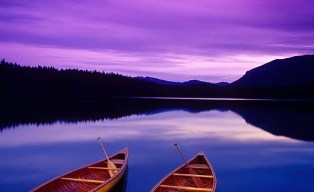 Although many people come for the canoeing, there is also a variety of trails that provide summer hiking opportunities into spectacular alpine meadows with fabulous views. Winter touring is more challenging, but equally rewarding. If you're looking for a peaceful getaway, you can stay overnight at one of the lodges or campgrounds or just relax by the lake for the day.
Visitors can bring their own gear when they visit Bowron Lakes, or they can stop at their choice of
three businesses that can provide them with all the gear to head out on the chain. You will even be
able to find supplies for camping, fishing, and souvenirs.
Bear River Mercantile
Bear River Mercantile offers a small general store, cafe, canoe & gear rentals, campground & cabin accommodations and an area museum / interpretation centre. Whether you are coming for the day or the month, Bear River Mercantile can help you out. Also look them up for helpful information on backcountry canoe camping and Bowron Lake Provincial Park.
Contact
Phone: 604-424-4330
Email at sandy@bowronlake.com
Website: www.bowronlake.com
Facebook: @Bowronlake
Becker's Lodge
New owners Randy & Tina are excited to let visitors know that they are now open for all four seasons for adventures on Bowron Lake and surrounding area. They offer lakeside cabins, campsites for your RV or tent. You can also rent kayaks, canoes, ATVs, mountain bikes, and in the winter they have snowmobiles and snowshoes.
Beckers Lodge is also an outfitter to the Bowron Lake Provincial Park canoe circuit, providing cabins, kayaks & canoes rentals, equipment and transportation!
Many of the guests use Becker's Lodge as a base for day trips on Bowron Lake and Bowron River, or a fishing trip with one of our guides. Some make the Becker's Lodge Resort their headquarters while they explore Barkerville Historic Town, the heart of the 1860s Cariboo Gold Rush and largest historic site in BC, Canada and the vibrant arts community of Wells.
Contact
Phone: 1-250-992-8864
Toll-free in North America: 1-800-808-4761
Email: info@beckerslodge.ca
Website: www.beckerslodge.ca
Facebook: @beckerslodge
Bowron Lake Lodge
Bowron Lake Lodge is located on 30 acres of land at the north-west shore of Bowron Lake, slightly elevated above water level. Enjoy a panoramic view of Sugarloaf Mountain and the more distant snow-capped peaks as you relax on the 650-meter private beach.
Bowron Lake Lodge offers rustic cabin accommodations and lakeshore camping along with canoe, kayak, and equipment rentals. The office is located in the former restaurant building and has a small store with basic camping supplies.
Contact
Phone: 250-255-2396
Email: info@bowronlakelodge.com
Website: www.bowronlakelodge.com
Facebook: @Bowronlakelodge